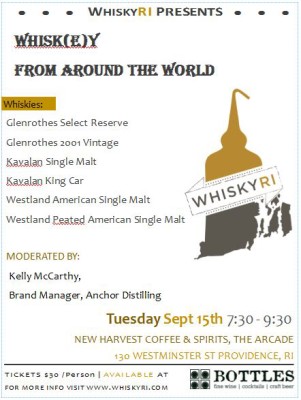 Well that took longer than I thought it would. After a too-long hiatus, public tastings are back. Hope you are still thirsty.
Tickets are now on sale for our Sept Tasting – Whisk(e)y from Around the World. Please join Kelly McCarthy, Brand Manager from Anchor Distilling, as she takes us through six whiskies from 3 countries on 3 continents. We'll taste 2 whiskies from Glenrothes in Scotland, 2 whiskies from Kavalan in Taiwan and 2 whiskies from Westland in America. If you haven't had these whiskies – you are in for a treat.
The tasting will be held at New Harvest Coffee & Spirits, Tuesday Sept 15th at 7:30. We'll have light appetizers catered for the evening (we are trying a new caterer, so let us know what you think). Tickets are available today at Bottles Fine Wine and are $30 each. We'll have our usual post-tasting raffle to benefit Operation Stand Down Rhode Island, an organization dedicated to helping homeless veterans – so bring your cash because we'll be raffling off a bottle of something, as well as a few other goodies.
BTW, I want to thank everyone who has asked if tastings are still happening and if everything is okay. This year I've donated several charity tastings as fundraisers, and also hosted multiple private tastings so I've still been holding events, just not public ones. I hadn't planned on taking such a long break – it sort of just happened. Going forward we'll be shifting to a more periodic tasting model instead of trying to do one every month.
I hope to see you at the tasting. -t