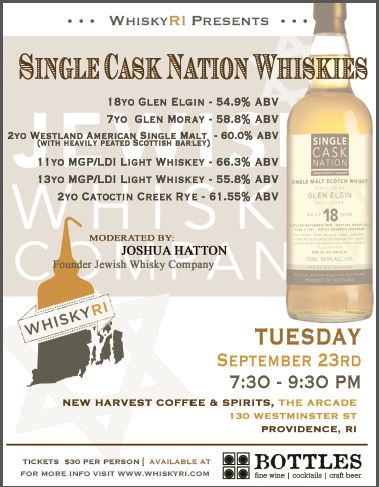 It's nice to see that Summer's hot weather has finally arrived, just in time for Fall. Which means it's Whisky season (although to be fair every season is Whisky season.)
I'm pleased to announce that our next tasting will be Tuesday Sept 23rd at New Harvest Coffee & Spirits in the historic Arcade building. We will be tasting and learning about the whiskies from Single Cask Nation and the Jewish Whisky Company. It will be moderated by Single Cask Nation founder, Joshua Hatton.
If you are a serious whisky fan you've probably read Joshua's blog – Jewmalt – or heard about the famous Whisky Jewbilee, which he founded in NY.  Regardless, you are definitely in for a treat because Joshua not only knows a lot about whisky, more importantly he knows how to pick a good cask of whisky.
We'll be tasting 6 whiskies – 2 from Scotland and 4 from the US. All the whiskies are cask strength whiskies bottled from single casks chosen specifically by Joshua and the team from Single Cask Nation. This is a rare opportunity to taste these whiskies before they are sold out.
The lineup:
18 Year Old Glen Elgin Bourbon cask- 54.9% ABV –
7  Year Old Glen Moray Fino Sherry Cask- 58.8% ABV –
2 Year Old Westland American Single Malt (with heavily peated Scottish barley) – 60.0% ABV
11 Year Old MGP/LDI Light Whiskey – 66.3% ABV –
13 Year Old MGP/LDI Light Whiskey – 55.8% ABV –
2 Year Old Catoctin Creek Rye – 61.55% ABV
Tickets are $30 and can be purchased today at Bottles Fine Wine, and don't delay because our tastings typically sell out very quickly. As usual we'll hold our post tasting raffle to benefit Operation Stand Down Rhode Island – an organization dedicated to helping homeless veterans. Hope to see you there. -t