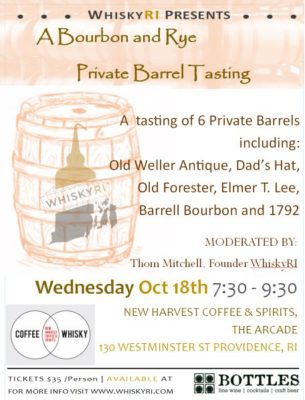 Who's ready to taste some whisky? Specifically whisky that you can't buy anymore, at least most of it.
Tickets are now on sale for our Wednesday Oct 18th Tasting – A Public Private Barrel Tasting. We'll be tasting 6 whiskies – 5 Bourbons and 1 Rye. All from privately selected barrels.  5 of these are from my collection and are no longer available, at least these particular barrels have long since been sold out.
The ephemeral quality of a single barrel bourbon is part of what makes it so special. When you find one you really like – you buy as much of it as you can. Alternatively you savor it – breaking it out to share with special friends – because whisky shared with other people always tastes better. Enough philosophizing. Onto the whiskies.
We'll be tasting:
Old Weller Antique Private Barrel (I bought an entire 12-count case of this a few years ago I liked it so much)

2013 Vintage Elmer T Lee (One of the last barrels chosen by Elmer T Lee himself before he passed away at age 93)

Dad's Hat Rye (this is the 1st private barrel they did)

Old Forester (this is from the Liquor Barn in Kentucky, they know bourbon and I find myself enjoying Old Forester more and more)

Barrell Bourbon (this one was chosen by a group called the Bourbon Crusaders, I was allowed to buy one bottle)

1792 Full Proof (this is still available at Bottles, for now)
The tasting will be held at New Harvest Coffee & Spirits, Wednesday October 18th at 7:30. We'll have light appetizers catered for the evening (catering by Easy Entertaining). Tickets are available today at Bottles Fine Wine and are $35 each. We'll have our usual post-tasting raffle to benefit Operation Stand Down Rhode Island, an organization dedicated to helping homeless veterans – so bring your cash because we'll be raffling off a bottle of something, as well as a few other goodies.
Whisky Tasting tickets always make a great gift – why don't you buy two tickets and bring a friend. You'll both be happy, hopefully learn a few things, taste some bourbon and make new memories. What could be better?
Don't delay buying your tickets, this one should sell out.  It'll be a fun night and the perfect way to kick off the busy Fall holiday sesson. Hope to see you there. -t