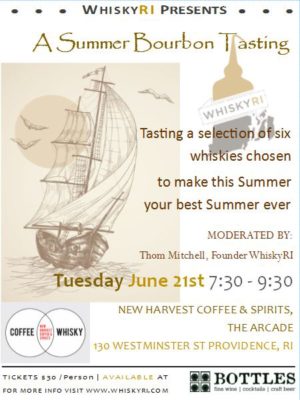 Summer and Bourbon. What a perfect combination. Long days, hazy sunshine, slow breezes, sitting on a porch with a glass of bourbon, sharing stories and laughter with family and friends. Recalling old memories and making new ones. What could be better?
Well, WhiskyRI doesn't have the porch and isn't your family, and hopefully we can be friends. We do have bourbon though, and that's a good thing. Not just any bourbon however. Bourbons that are made for Summer – because I think most of us can agree that Summer is simply better with Bourbon.
And so we are kicking off Summer with a Summer Bourbon Tasting. We'll taste six whiskies that go with Summer, we'll share a few stories, hopefully have a few laughs and maybe even make some few friends. Whether you are new to Bourbon or already have old favorites we'll reexamine some forgotten brands and hopefully help you discover some new ones.
The tasting will be held at New Harvest Coffee & Spirits, Tuesday June 21st at 7:30. We'll have light appetizers catered for the evening (catering by Easy Entertaining). Tickets are available today at Bottles Fine Wine and are $30 each. We'll have our usual post-tasting raffle to benefit Operation Stand Down Rhode Island, an organization dedicated to helping homeless veterans – so bring your cash because we'll be raffling off a bottle of something, as well as a few other goodies.
If you are looking for the perfect Father's Day present – why don't you buy two tickets and bring your dad, or if you are the father, why don't you treat yourself and bring a friend. You'll make a dad happy, learn a few things, taste some bourbon and make new memories. What could be better?
Don't delay buying your tickets, this one should sell out pretty quickly.  It'll be a fun night and the perfect way to start Summer. Hope to see you there. -t