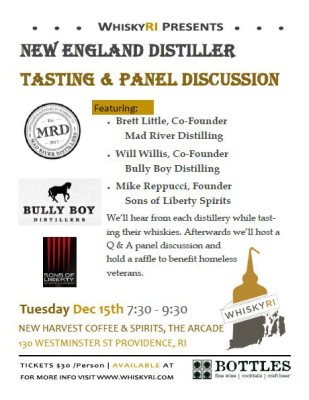 Thanksgiving is over which means we are now officially running the holiday gauntlet. And no holiday is complete without Whisky.
Tickets are now on sale for our December 15th Tasting – A New England Distiller's Panel and Tasting, featuring Mad River Distilling, Bully Boy Distilling and Rhode Island's own Sons of Liberty Spirits. New England is having a renaissance in Whisky Distilling right now – and these three distilleries are leading the revolution.
We'll have the founders and distiller's from each distillery – we'll taste their whiskies and listen to their stories while enjoying some good food. It's a great opportunity to learn more about how each distiller makes their whisky and how they are different.
The tasting will be held at New Harvest Coffee & Spirits, Tuesday Dec 15th at 7:30. We'll have light appetizers catered for the evening (our new caterer is Easy Entertaining and everyone seemed to enjoy them at our last tasting). Tickets are available today at Bottles Fine Wine and are $30 each. We'll have our usual post-tasting raffle to benefit Operation Stand Down Rhode Island, an organization dedicated to helping homeless veterans – so bring your cash because we'll be raffling off a bottle of something, as well as a few other goodies.
Tasting tickets are the perfect early gift for that special someone, or that coworker you can't figure out what to buy for. They always fit perfectly and you don't have to worry about them being re-gifted next year.
Don't delay buying your tickets, the tasting is only two weeks away – and you don't want to miss this one. It'll be a fun night and the perfect way to kick off the holiday party season. Hope to see you there. -t