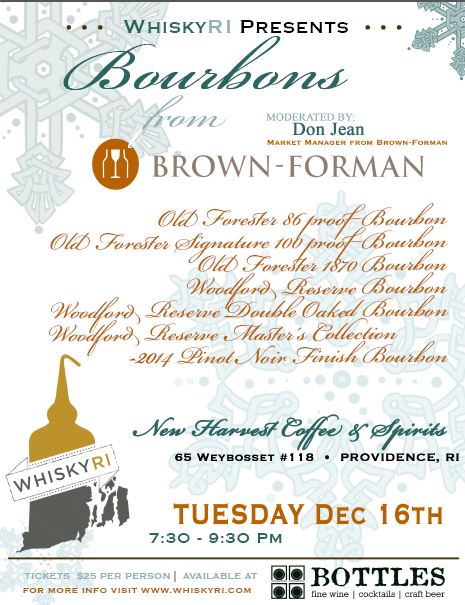 It's the holiday season, and we all know every holiday is better with Whisky.
Our next tasting will be a Bourbon tasting at New Harvest Coffee and Spirits, Tuesday Dec 16th from 7:30 – 9:30 pm.
We will be tasting Bourbons from Brown-Forman. It will be moderated by Don Jean, Market Manager for Brown-Forman. Don is an accomplished raconteur with numerous stories from his 30+ years in the Bourbon industry.
We'll be tasting three bourbons from Old Forester and three bourbons from Woodford Reserve. One of the bourbons, Old Forester 1870, has only been released in a few markets and isn't scheduled to be released in Rhode Island until November 2015. We'll also be tasting a limited edition bourbon – The Woodford Reserve Master's Collection 2014 Pinot Noir Finish Bourbon.
The Theme is Bourbons of Brown-Forman and the whiskies will be:
Old Forester Bourbon, 86 Proof
Old Forester Signature Bourbon, 100 Proof
Old Forester 1870 Bourbon
Woodford Reserve Bourbon
Woodford Reserve Double Oaked Bourbon
Woodford Reserve Master's Collection 2014 Pinot Noir Finish Bourbon
Tickets for the tasting are $25 and are available today at Bottles Fine Wine. Buy your tickets without delay because this one should sell out, given how popular Bourbons are right now.  We'll have our usual post-tasting raffle to benefit Operation Stand Down Rhode Island, an organization dedicated to helping homeless veterans – so bring your cash because we'll be raffling off a bottle or two of something special, as well as a few other goodies. Hope to see you there. -t