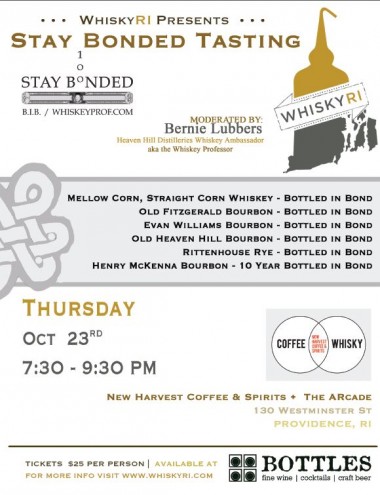 Whisky Season is finally here, although as I've said before, it's always whisky season at my house.
Our next tasting will be a tasting of Bottled in Bond whiskies from Heaven Hill Distillery at New Harvest Coffee and Spirits Thursday October 23rd from 7:30 – 9:30 pm. (note the day change)
It will be moderated by Bernie Lubbers, Heaven Hill Distilleries Whiskey Ambassador and Whiskey Professor. Bernie is not only a whisky ambassador, he is also an author and will have copies of his book; Bourbon Whisky: Our Native Spirit, available for purchase and signing.
The tasting will cover what exactly is a Bottled in Bond whiskey, why the Bottled in Bond act of 1897 is still important to you and more importantly we'll taste some really good whiskies. Bernie is a great presenter, and even if you are familiar with these whiskies you'll definitely learn something new and have fun doing it.
 The Theme is Stay Bonded and the whiskies will be:
Mellow Corn, Bottled in Bond Straight Corn Whiskey – 100 Proof
Old Fitzgerald Bottled in Bond Bourbon – 100 Proof (now discontinued, this is from my collection)
Evan Williams Bottled in Bond Bourbon – 100 Proof
Old Heaven Hill Bottled in Bond Bourbon – 100 Proof (now discontinued, this is from my collection)
Rittenhouse Rye – Bottled in Bond – 100 Proof
Henry McKenna Bottled in Bond Bourbon 10 Year Old – 100 proof
Tickets for the tasting are $25 and are available today at Bottles Fine Wine. Buy your tickets without delay because this one should sell out, given how popular Bourbons and Ryes are right now.  We'll have our usual post-tasting raffle to benefit Operation Stand Down Rhode Island, an organization dedicated to helping homeless veterans – so bring your cash because we'll be raffling off a bottle or two of something special, as well as a few other goodies. Hope to see you there – t