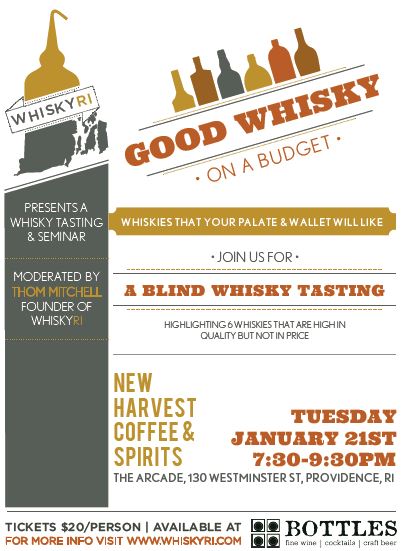 I hope your holiday season is going well and that it is full of family, friends and holiday cheer, especially the holiday cheer part. And if it isn't, maybe I can help.
I'm pleased to announce that our January tasting tickets are now on sale. I decided to do something different for next month's tasting and focus on budget whiskies. Not just any budget whiskies though, whiskies that are as easy on your wallet as they are on your palate. And tickets prices also reflect the budget theme – tickets are just $20.
You don't have to spend a lot of money to drink well – and I personally get a great satisfaction to know I'm drinking a whisky that is $15 a bottle and will win a blind taste test over a $50 bottle of whisky. So we'll be tasting six whiskies blind – you'll have to rely solely on your taste buds and trust that I'll pick whiskies worth tasting. The tasting will be moderated by myself  – who did you expect for a budget whisky tasting? Jim Murray?
We'll be in a brand new venue – New Harvest Coffee and Spirits, The Arcade, 130 Westminister St, Providence, RI. If you aren't familiar with New Harvest Coffee and Spirits, and you drink whisky or coffee – you should be. The tasting is Tuesday Jan 21st from 7:30 – 9:30 pm and tickets are on sale at Bottles Fine Wine in Providence. We'll have the usual prizes and raffle benefitting Operation Stand Down Rhode Island – an organization dedicated to helping homeless veterans – so bring your cash. In 2013 with your help we raised $1,030,  and I hope we can raise even more in 2014.
A better way to start the new year you'll not find this holiday season – six whiskies, some light snacks and the shared conviviality of whisky lovers. Can you think of a better way to start 2014?
WhiskyRI tickets make great stocking stuffers and are the perfect fit for the whisky lover in your life. I hope to see you there! – t