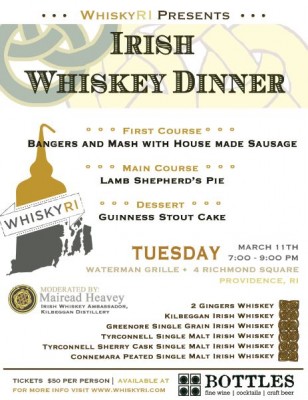 Snow is coming, again. dooming any thoughts of an early Spring.
While I can't do anything about the snow, I can help you take a virtual vacation to the Emerald Isle – with our Irish Whiskey Dinner March 11th at Waterman grille. We'll be tasting six whiskies while enjoying a plated 3-course dinner.
The tasting will be led by Mairead Heavey, Irish Whiskey Ambassador for the Kilbeggan Distillery. She lead us through tasting six whiskies while we enjoy a 3-course dinner created by the Waterman Grille Chef.
First things first because it's the reason you've read this far. The Whiskey lineup for the evening will be as follows:
2 Gingers Whiskey
Kilbeggan Irish Whiskey
Greenore Single Grain Irish Whiskey
Tyrconnell Single Malt Irish Whiskey
Tyrconnell Sherry Cask Single Malt Irish Whiskey
Connemara Peated Single Malt Irish Whiskey
The evening's menu will be
First course – Bangers and Mash with House Made Sausage
2nd Course – Lamb Shepherds Pie
Dessert – Guinness stout Cake
Tickets for the Dinner are $50 and are available today, as usual, at Bottles Fine Wine. Buy your tickets quickly because we are now selling out every month, and I expect this one to sell out as usual. Remember WhiskyRI tasting tickets make great gifts for that special someone in your life.
We'll have our usual post-tasting prize raffle to benefit Operation Stand Down Rhode Island, an organization dedicated to helping homeless vetarans – so bring your cash and a generous spirit.  We've raised over $1,500 for OSDRI and I hope we can raise even more this year. I hope to see you at this tasting – it should be a fun night with some interesting whiskies. -t