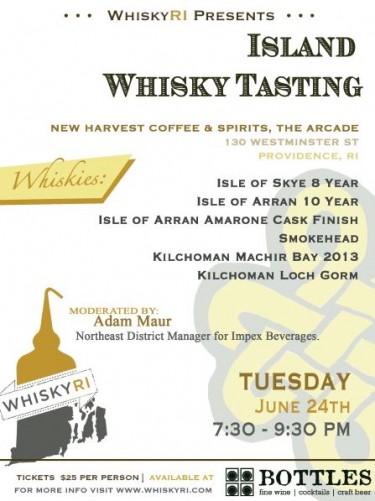 Warm weather and sunshine are enough to make a person think that Summer might actually soon be here.
And Summer means Island Time can't be far away. Can you think of a better way to get ready for Island Time than an Island Whisky Tasting?
Tickets are now on sale for our Island Whisky Tasting June 24th at New Harvest Coffee and Spirits in the historic Arcade building. It will be moderated by Adam Maur, Northeast District Manager, ImpEx Beverages. We'll feature whiskies from the the Isle of Skye, Isle of Arran and Isle of Islay.
While Islay may be the best known of the Scottish Isles, Arran and Skye deserve serious consideration as well. Especially the whiskies they produce.
Our lineup for the evening:
Isle of Skye 8 Year
Isle of Arran 10 Year
Isle of Arran Amarone Cask Finish
Smokehead
Kilchoman Machir Bay 2013
Kilchoman Loch Gorm
Tickets are $25 and can be purchased today at Bottles Fine Wine, and don't delay because our tastings are selling out quicker than ever. As usual we'll hold our post tasting raffle to benefit Operation Stand Down Rhode Island - an organization dedicated to helping homeless veterans. Hope to see you there. -t